[Previous entry: "Nappin' in the High Chair"] [Next entry: "Sweet Dreams"]
07/30/2006: "Some Sunday Highs and Lows"
music: ...sometimes you're the windshield, sometimes you're the bug...
High--Mom lending a helping hand with readying the children for church.

High--Going to Blackfoot to hear family speak in Sacrament meeting.

Low--Getting there two minutes before church starts.

High--Having seats available in the middle benches with aisle access.

Low--Ephraim getting fussy near the end of the meeting.

High--Having Grandparents Robinson to keep an eye on the big four while I walked-n-rocked a baby.

Low--Going to get Ephraim's sippy cup from the van and not finding my keys in my church bag.

Lower--Seeing my keys on the driver's seat in the locked van.

Lowest--Crying in the foyer as the emergency roadside service operator explains she cannot find anyone in the area to do Sunday lockout service, after using foyer phone to place collect calls to Richard looking for policy and telephone numbers. Consider breaking window and repairing it later.

High--Brother (in-law), nephew (in-law) and five other guys start working on gaining access to my van. Sister (in-law) sympathizes from personal experience, searches for more tools and helps with Ephraim while I'm going in and out of the building.

Higher--Side middle window pried open, fishing with bent hanger for keys, door handle or unlock button. Personal embarrassment at locking keys in the van for the first time and doing so 1000 miles from home is starting to fade.

Highest--Door opened, keys retrieved, beaucoup thanks given to the men who assisted me. Mercy given, gratitude returned, heaven and earth.

Low--Elena trips on treadmill, shreads a hand and scrapes both forearms.

High--Dinnner with family. Ephraim playing with my grandniece.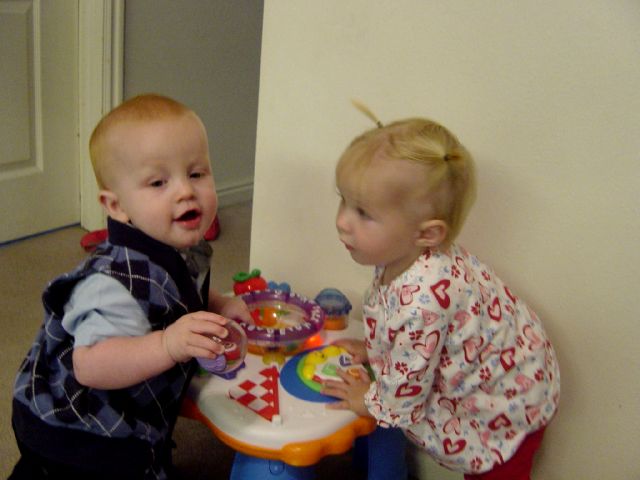 Low--Ephraim smacking his head into the desk, startled by my loud yelp after he bit me. Screaming lasts for about 10 minutes. Whimpering lasts at least 30.

High--Chatting with my sweetie before bed.