[Previous entry: "A new birthday eve tradition...."] [Next entry: "Midafternoon Report"]
06/07/2005: "Cheanna's Birthday !!!!!!"
mood: very happy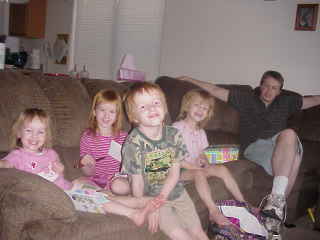 A group shot on the couch as Cheanna wields the letter opener...

It was a very nice day today. We breakfasted on cinnamon sticks and fresh cut honeydew and cantaloupe. Cheanna and Richard made birthday fudge, which was very yummy too =)

Cheanna watered weeds this morning while Richard pulled them. Our backyard is officially reclaimed =) Richard also planted some melon seeds this afternoon--we'll see how well they do in our soil. This is a good time to plant them here, according to the paper.

Cheanna opened her cards and presents after we sang to her this afternoon. She immediately changed into one of the shirts we gave her and wanted to set up the DanceDanceRevolution (DDR) from Rydalches. It was fun to watch her play, but it's still a little hard for her so she'll grow into it some. Emma and Daddy took turns too, and Elena decided that the best method for her was just go around in a circle over all the arrows without looking at the screen and managed to hit a few steps at the right times. The weightloss mode is easy on the ego, because it lets you know how much distance you've covered or calories burned and doesn't tell you how many steps you blew.

Cheanna and Duncan played Kingdom Hearts afterwards while most everyone else napped. Then Cheanna napped and Ginger's boys came over while Ginger went to a YW camp meeting (Steve is at Stake Scout Camp this week). We had fish&chips for dinner, and for dessert ate a chocolate cake that her oldest son (9) made for Cheanna. It was very popular!

Cheanna and I went to Krispy Kreme after Ginger picked up the boys; she received her birthday present of 6 regular glazed and a free mug of soda. Cheanna chose Sierra Mist and renewed her determination to buy lime juice the next time we go to the store =)

It looks like this should be a great year for Cheanna, and the rest of us as well!